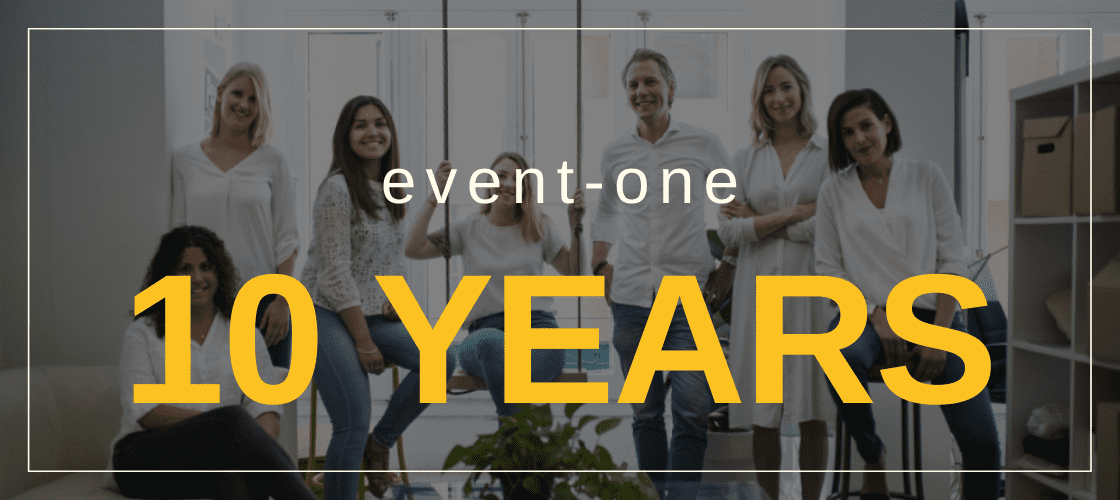 About us | 10 YEARS event-one DMC
05 Mar
Posted at 16:07h
in Uncategorised
0 Comments
"event-one DMC, communicating emotions since 2010"
Time to celebrate! This year our company turns 10! We couldn´t let this pass by unnoticed, which is why we will have our anniversary party this weekend.
It all started in 2010 with Frédéric Scheel, who founded the company after gaining loads of experience in event management in Germany. As the years went by the company grew, more and more experience and knowledge were acquired and the team became even more diversified. With a strong team of 10 international project managers we offer personalized itineraries in the native language of our customers. In the past we mostly worked with French and German companies, recently also Belgium and the Netherlands were added to our portfolio.
For this occasion, we sat down with our founder, Frédéric, to discover a bit more about how it all started and what the future holds for event-one.
Why did you decided to go into the event business? From where did you get the inspiration?
One night my father came back from a huge event of 75 years Henkel, he was working there, and the next day he started telling me about it. I was 16 at that time and had no idea what I wanted to do as a profession. He had been talking to the event organizer for some time and had noticed a lot of similarities between the event manager and me, so he thought that the event business might fit with my personality.  That's where the idea started. Afterwards I did some research and enrolled in a couple of trainings in different companies in Germany – that's where my passion for this industry started.
Why did you decide after being born in Japan and studying in Germany to start a company here in Spain?
I worked for an event company in Germany for three years and towards the summer my contract was ending, but at that time they didn't know for sure if they would be able to prolong my contract. I left for Spain on holidays and when I came back, they offered me a new position, but I had already fallen in love with Spain. The weather was perfect, everything was so cool, the people so friendly, … so I decided to go back to Germany just to pack my stuff and then head off to Barcelona. I hadn't been in Barcelona yet, but at that time it was the place to be. Spain was very welcoming, as it still is today, so it was an easy decision to make.
Did you already speak Spanish at that point?
I hadn't learned any Spanish yet, so I did an intensive course and the rest of my knowledge, to be honest, I gained from my flat mates. We were five in total; one Swedish, one English, two from Sevilla and myself. Amongst the five of us we organized lessons in our living room, the guys from Sevilla taught us Spanish and we taught them our languages. You could compare my first year in Barcelona with "L'Auberge Espagnole", that paints a quite accurate picture of my amazing experience there.
Which important lesson have you learned over the years?
Always be honest. There's no point in beating around the bush or making up excuses. We know our clients and providers personally and value greatly the good and honest nature of our relationships. It's important to know that you can trust your partners.
What are your plans for the future of the company? Any more countries to add to the client list? Do you have any goals you want to reach in the near future?
Obviously there are a lot of big markets in Europe that we could explore, but our first goal is maintaining strong and healthy relationships with the clients we already have and focus on our markets in France, Germany, Belgium and the Netherlands. For now, at least.
My next big goal is to reduce the stress that can sometimes accompany the event industry. In the end the guests don't notice it, but the days leading up to an event and the event itself can be quite stressful, for our project managers as well as for our providers. It's not uncommon for people in the event business to have burn-outs and there's a lot of turnover in this sector. For me it's important that we maintain a healthy working environment so that my employees can continue to do the job that they love in a stress-free way. We are very lucky to be part of the exciting event world!
As a decade ends, it's only natural to look back, reflect and remember what happened over the past 10 years. We are thankful for our faithful clients, reliable providers and partners!
The whole team is looking forward to celebrating this upcoming weekend in Valencia! 🙂